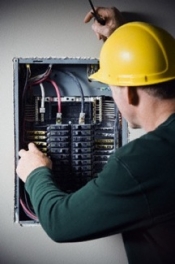 The panel is the heart of your electrical system.
It is by far the most important component. It controls the flow of power through your home, and in the case of an irregular event, it will cut off electricity to prevent serious damages from starting.
The panel is just like anything else in your home. It needs maintenance and eventually to be replaced. If there is ever a fire in a home, the first place an insurance company goes is the panel. If it is not kept up properly, they will try to show negligence.
To prevent that form happening, here are some things to look for in your panel:
Non-approved breakers for your brand panel
Panels that are older than 20 years
Corrosion
Missing breakers
Hot Spots
If you have any questions, feel free to ask our experts. We Love to answer questions!