Home / Cooling System Tune-Up
Your home's air conditioning system works hard for you and your family. The last thing you want this summer is to feel the cool air from your vents turn warm as the efficiency of your cooling system dies away.
The trouble is that over time dust and dirt from the air in your home can accumulate in your system and cause a variety of problems, robbing your air conditioner of performance and necessitating costly repairs.
In fact, after going back over our records, we found that over 53% of all AC repair calls could have been prevented with regular maintenance.
That's why Heat Relief developed our 19 point Precision Tune-Up and Safety Inspection, a run-down of essential maintenance tasks that can reduce the likelihood of repairs on your system and regain lost efficiency, thereby saving you money.
Heat Relief offers this tune-up for just $179. Plus, you also get our 100% Satisfaction or Your Money Back guarantee! The tune-up, safety inspection, and professional cleaning of your system should take about an hour to complete.
You and your family can relax this summer knowing that your air conditioner is guaranteed to keep you cool. If there is a breakdown after your safety inspection and tune-up, we'll refund the entire amount or credit it to any necessary repair.
Here's a list of the operations performed during our cooling tune-up:
Check Thermostat
Inspect Filters
Check Electrical Connections
Check Blower Wheel
Note Outdoor Temperature
Check Refrigerant
Check Suction Line
Check Indoor Blower Bearings
Check Contactor
Check Outdoor Coil
Check Indoor Coil if accessible  
Check/Run Defrost Cycle on H/P
Check Reversing Valve On H/P
Check Condenser Air Entering Temperature
Check Return Air Temperature
Check Supply Air Temperature
Check Suction Line Temperature
Check Evaporator Saturation Temperature
Check Condenser Saturation Temperature
Check Liquid Line Temperature
Run/Rate Capacitor(s)
Check Compressor AMPS
Summer is going to be a scorcher, so contact Heat Relief today!
Customer Review
Heat Relief Heating & Cooling is very customer-oriented. We had a unit installed by them a few summers ago when our air conditioner went out during the middle of the season. They took care of everything we needed, and it's why we've kept using them.
Michael
---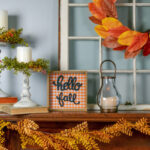 4 ways to prepare your HVAC system for fall
When the fall season blows through, it's time to pack up the shorts and pull out the sweatshirts. It's also prime time to check on your HVAC system to make sure heating your home this fall is simple. The last thing you want is to click on your heating system during the first frost, and your home remains cold.