Home / Ductless Split Systems
Imagine the potential energy savings when you can choose not to heat or cool unused rooms, such as guest bedrooms, while at the same time keeping bedrooms or the living room at the perfect temperature for comfort. A ductless split system is also a great option if you have a converted attic, new addition or finished basement in your Portland area home.
These high-efficiency HVAC systems can also help you save money by helping to keep your most-used rooms optimally comfortable, so that even if you have ductwork, you can potentially spend less on heating and cooling costs for the rest of your home.
We are proud to offer the Daikin and Mitsubishi Electric wall-mounted ductless split systems, both of which are among the highest quality, most energy-efficient ductless split systems available. At Heat Relief Heating & Cooling, we can help you pick the right ductless mini split system to fit your needs.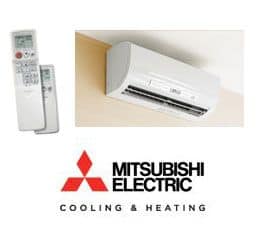 Click here to learn more about Daikin products.
BENEFITS OF A DUCTLESS SPLIT SYSTEM
Comfort without Compromise. Keep the rooms you use most at precise temperatures for comfort. Keep the kitchen a little cooler than the rest of the house, or maintain your garage at a comfortable temperature. Even difficult-to-maintain rooms are easily controlled with a multi-unit system, because each area has its own control unit. All this adds up to maximum comfort, maximum efficiency, and minimum utility bills.
Cost Effective Choice. Ductless heating and cooling systems are an easy solution to bring comfort to rooms without ductwork or with hot or cold spots. Ductless mini-split installation is minimally invasive with no patching or painting required. This makes a ductless heating and air conditioning system a much more cost-effective solution than adding ductwork or increasing the capacity of your current system. These high-efficiency heating and cooling systems can also help you save money by helping to keep your most-used rooms optimally comfortable, so that even if you have ductwork, you can potentially spend less on heating and cooling costs for the rest of your Portland area home.
High Efficiency Systems. Both Daiken systems and Mitsubishi Electric systems offer efficiencies up to 26 SEER. Both systems qualify as Energy Star rated.
Wirelessly Control Each Space. Comfort is more than controlling heating and cooling. It's being able to do it effortlessly. A wireless remote control option is another way ductless offers personal comfort from every angle.
New Technology revolutionizes the heat pump. Unlike older, inefficient heat pumps, with Mitsubishi Electric's ductless heat pump systems cold air delivery is eliminated. Larger coils heat faster, and the Hot Start™ system doesn't activate the fan until the desired temperature is reached so it never blows cold air.
Variable Speed, High Efficiency. Daiken Split Systems offer the world renowned Daikin Inverter "Variable Speed" compressor technology. Integrated with an inverter "variable speed" compressor, all systems vary compressor speed to deliver the required heating or cooling capacity needed to maintain desired comfort conditions, minimizing temperature fluctuations and maximizing energy savings.
Quiet Operation & Allergen Filtration. Mitsubishi Electric offers advanced multi-stage filtration systems that dramatically reduce allergens and help eliminate odors. And their indoor units operate with sound levels starting as low as 19dB; that's even quieter than a human whisper.
For more on ducltess mini splits or any of our other products and services, please contact us. Don't forget to ask us about our exclusive 100% Satisfaction Guarantee!
Customer Review
Very happy with the work, the technician called to say when he'd be here, and he was right on time. He looked at the situation, knew exactly what to do, and finished up a little earlier even than he'd originally estimated. Highly satisfied.
Pat
---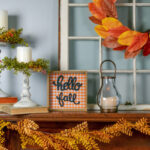 4 ways to prepare your HVAC system for fall
When the fall season blows through, it's time to pack up the shorts and pull out the sweatshirts. It's also prime time to check on your HVAC system to make sure heating your home this fall is simple. The last thing you want is to click on your heating system during the first frost, and your home remains cold.