Honeywell Automatic Standby Generators Provide Ultimate Protection
Power outages can cause extreme discomfort for an entire household if there is no alternative power source. A backup generator in the home provides homeowners with a dependable energy solution, allowing them to use lights, appliances, and other electronics in the event of a power outage. A Honeywell automatic standby generator backs up the circuits you choose during a power outage. It automatically starts within seconds of detecting power loss and runs on the home's existing natural gas or propane fuel supply. Choose a backup option from essential circuit or managed power coverage. It's the reliable answer that ensures necessities, conveniences, and amenities are always available and automatically backed up when the power goes out.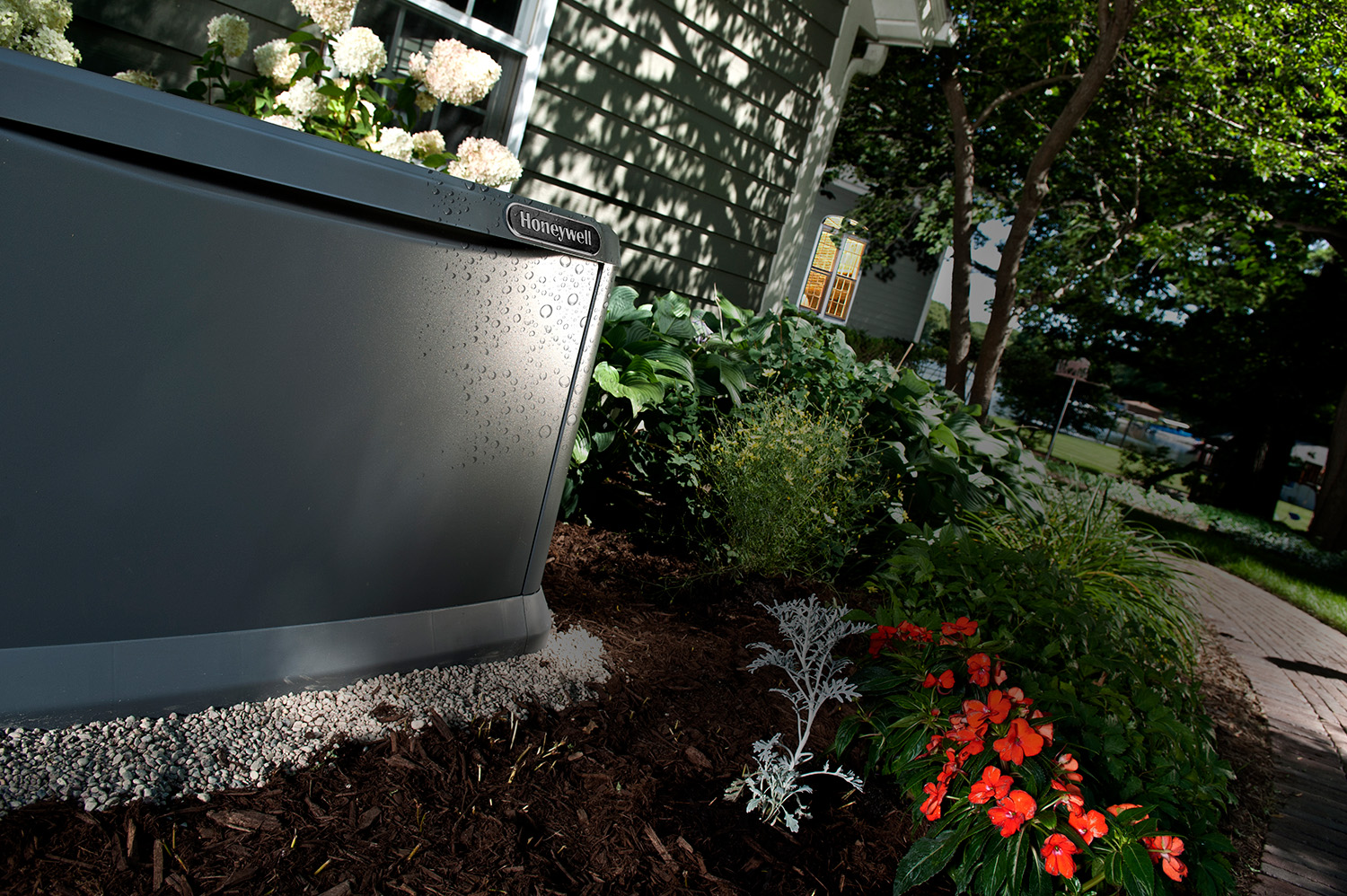 Benefits of a HONEYWELL Automatic Standby Generator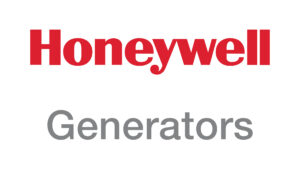 Standby generators don't release as many fumes as portable generators, preventing carbon monoxide buildup inside the home, making standby generators better for overall health and indoor environment.
If homeowners are away during a power outage, Honeywell generators will ensure that home systems are still running, and the home alarm system continues doing its job.
While portable generators can only deliver a limited amount of power, standby generators can be connected to an existing gas line, enabling them to provide power for as long as needed. They engage automatically once the power goes out. Portable generators must be switched on manually and cannot power hardwired systems.
Since these generators help prevent problems like spoiled food in the refrigerator or frozen pipes during the winter, homeowners can avoid unexpected costs and significant headaches.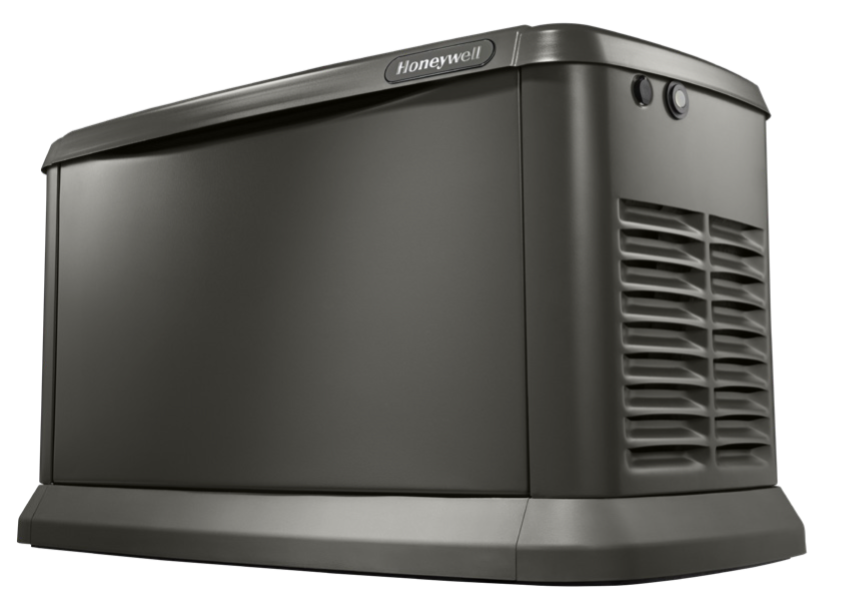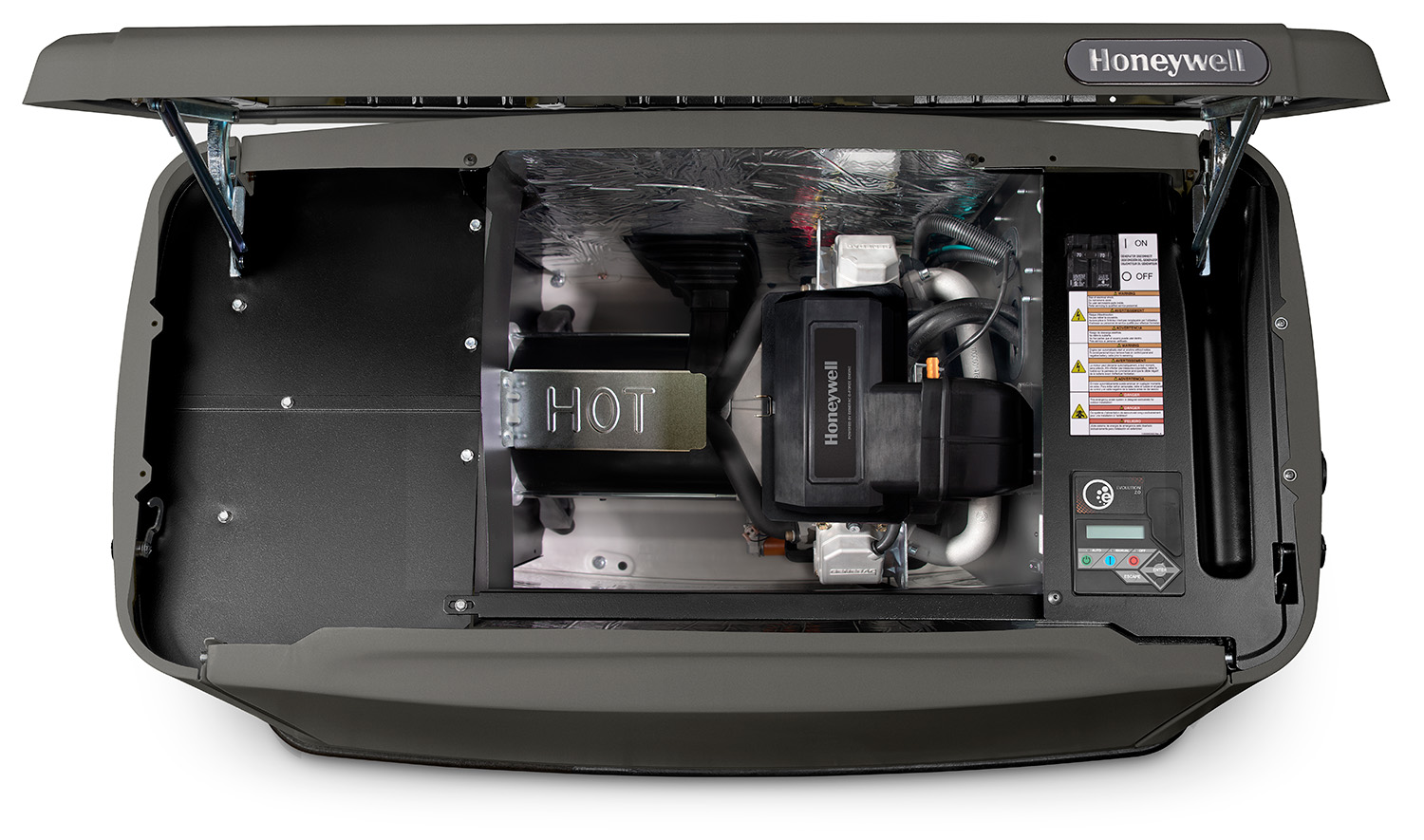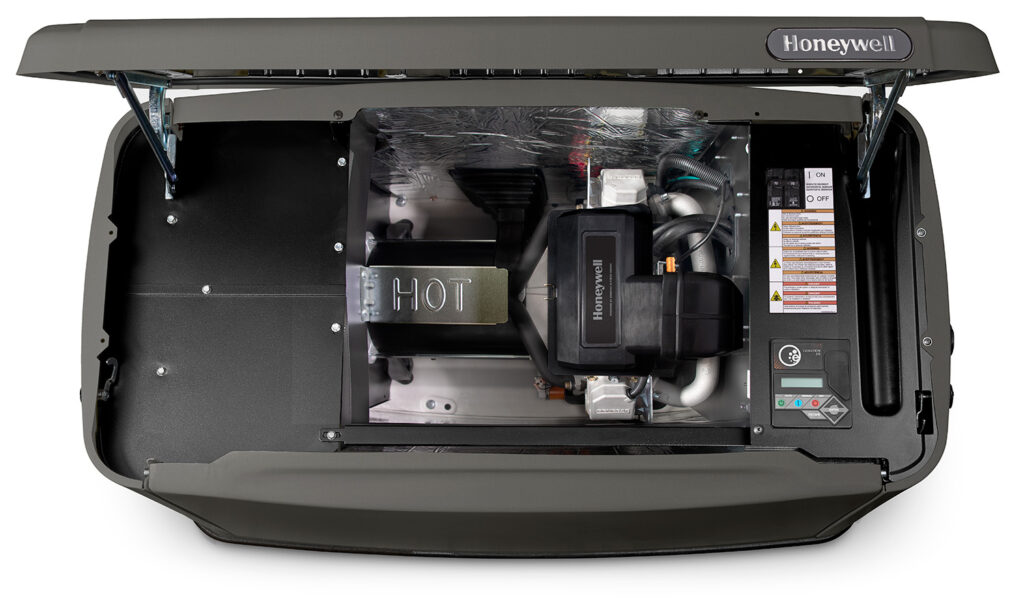 Features
WI-Fl CONNECTIVITY: Honeywell standby generators are Wi-Fi enabled. Now you can remotely connect and monitor its status on a smartphone, tablet or PC. from anywhere in the world using Mobile Link's FREE service.
PREMIUM 5-YEAR LIMITED WARRANTY: Honeywell Generators carry a best-in-class Premium 5 Year Limited Warranty for automatic standby generators. Includes parts and labor.
PRECISION POWER™ TECHNOLOGY delivers best-in-class power quality with less than 5 percent total harmonic distortion for clean, smooth operation of sensitive electronics and appliances.
GENERAC G-FORCE ENGINE is a purpose-built, pressure-lubricated engine capable of handling the rigors of generator use. resulting in power that's more reliable and requiring less routine maintenance than any competitive engine.
WHISPERCHECK™ self-test mode runs at a lower RPM for a five-minute test, is significantly quieter than other brands, and consumes less fuel.
STURDY, ALL-WEATHER ALUMINUM ENCLOSURE: The durable aluminum enclosure with RhinoCoat™ finish prolongs the life of your generator with corrosion-resistant protection from the elements. Modeled to withstand winds up to 150 mph, and with a fire rating certified for optimal placement. 18″ away from a building.
TRANSFER SWITCH OPTIONS*: Honeywell Sync™ Smart Transfer Switch: Utilizing digital power management, it allows for coverage of two air conditioners without additional components.
Pre-wired 16 Circuit Transfer Switch: Cost-effective, easy to install option for essential coverage. For use with the 10 kW or 14 kW only.
* Transfer Switch sold separately
ENGINEERED AND ASSEMBLED IN THE USA. **
** Using domestic and foreign parts
Ensure comfort, safety, and security during a blackout. Protect your home during power outages with a Honeywell® standby generator. Heat Relief Heating & Cooling offers various sizes and power ranges for your home needs. To discuss options and receive your FREE estimate, call us at (503) 877-1713 or schedule your appointment today.
© Generac Power Systems, Inc. All Rights Reserved. Specifications to change without notice. The Honeywell Trademark is used under license from Honeywell International Inc. Honeywell International Inc. makes no representation warranties with respect to these products.