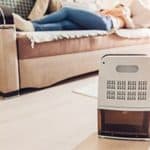 Dehumidifiers can work with alongside your HVAC system to lower humidity levels and keep your home comfortable during Oregon summers. However, no system is perfect. If you're utilizing a dehumidifier this summer, make sure you understand a few of the potential risks associated with the devices.
Fire Risk
Just like any other appliance in your home, dehumidifiers need regular maintenance. If you don't properly maintain them, the small fire risk grows larger. Change your filters, remove debris from the grill, and wipe down the coils and fan blades. Any time a foreign object falls into the machine or sits close to its heating components, it may catch fire. Once your device is clean of any buildup, make sure the dehumidifier is placed correctly in your home. Don't set it in a corner, against curtains, or near furniture. Any of these placements block the grills and increase your risk for a fire.
If you've purchased your unit prior to 2016, be aware that your device may be under recall for a manufacturing error. Check the list of recalled dehumidifiers here.
Health Risk
While dehumidifiers are a favorite among allergy sufferers for their ability to stop the growth of mold and fungi, they can actually become the source of your allergiesif not properly maintained.
The fix? Empty your dehumidifier on a regular basis. Standing water is a breeding ground for mold and fungi, so a clean dehumidifier equals a happy home. Don't let the quality of your indoor air ruin your summer. When it comes to healthy air, dehumidifiers aren't your only option. Make the reliable choice. Call Heat Relief today (503) 877-1713 to discuss all the ways we can improve your Portland area home's indoor air quality with our Bryant® Air clean air technology.